Pavel Temkin (front, left) playing training game with Elliot Dean
Pavel Temkin became winner of April Princeton Day School First Saturday Tournament (Princeton, NJ) with great result 3.5 of 4 !
Yuvik Umapathy
Yuvik Umapathy was 1st in section 9 of April Westfield Quads (Westfield, NJ) with 2.5 of 3 !
Viktor won 2 plaques
Viktor Krapivin showed high results in Princeton Day School tournaments - 3.5 of 4 in unrated section in April and 3 of 4 in rated section in May!
Aditya Gudapati (left) and Aditya Venkatesh (right)
Aditya Venkatesh won 2nd place trophy in March Westfield Scholastic (Westfield, NJ) in rated K-2 section!
Aditya Gudapati showed good result in May PDS tournament (Princeton, NJ) - 3of 4 !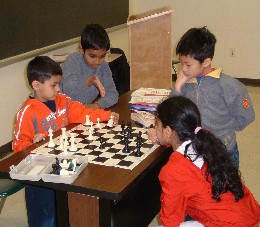 Game analysis
Spring 2006
Tournaments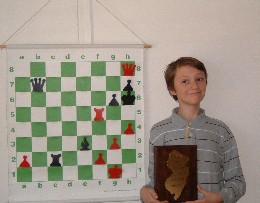 Kostyantyn Mazur
Kostyantyn Mazur won 1st place in section 5 of April Westfield Quads (Westfield, NJ) with 2.5 of 3 !
Roma Rychkov (left) and Adam Shannon(right)
6-years-old Roma Rychkov played successfully in February Polgar Scholastic Championship (Forest Hills, NY) and in March Chess Wizards Scholastic (Springfield, NJ). These results allowed him to come very close to USCF rating 1000 !
Adam Shannon shared 3rd place among 26 players in March PDS Tournament (Princeton, NJ) - 3 of 4 !
Training games - Avni (left, front) and Nidhi (left, back) are playing with the classmates
Twin sisters Avni and Nidhi Mahagaokar successfully played in Westfield Scholastic tournament in 3-5 graders section. Nidhi won 2nd place and Avni received 3rd place medal!
In the class...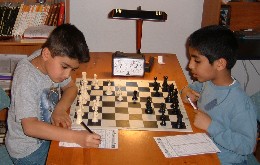 Training game - Vaed (left) and Vishan (right)
Vishan Ramanathan shared 1-2 places in New York State Open Championship among 1-st graders (New Rochelle, NY) with outstanding result - 6 victories in 6 games!
Vaed Khurjakar shared 4th place among 52 participants in March Orchard Scholastics (Ridgewood, NJ) - 3 of 4 !
Samritha and her first trophies...
Only a month ago Samritha Palakollu became 5. But she started to learn chess last August and already won trophies in 2 rated tournaments: Samritha shared 2nd place in April Holy Family Academia Shkola Tournament (Bound Brook, NJ) and recenlty won 2 more trophies as a Top Kindergardener and for the 2nd place in K-1 section in Saunders Technical High School Scholastics (Yonkers, NY) - 3of 4 in each tournament!
Arjun shows his Plague for the 2nd place...
Arjun Rajkumar is also 5, and he started chess classes in September. In April Princeton Day School Tournament (Princeton, NJ) Arjun took 2nd place in unrated section with great result - 3.5 of 4 !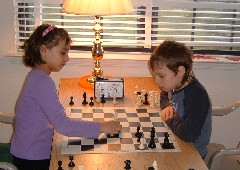 Another training game:
Katya Sosson and Aviv Khavich